IMPORTANT: Coronavirus COVID-19 – how to counteract
In relation to spreading of COVID-19 virus, we prepared recommendations being aimed at lowering the risk of falling ill for you: 
Often wash hands with , applying soap or disinfectants basing on alcohol

When you are coughing or you are sneezing, cover the mouth and the nose, and then wash your hands • Avoid of mass parties

Take care about your health, healthily feed and rest (remember about vitamins and mineral elements, best in the form of fruit and vegetables)

When you feel that you are weakened, better stay at home

If you are having a temperature above 38 degrees inform the coordinator of this fact through the telegram- don't come to the office

If within 14 last days you were in Italy or Germany, inform your coordinator of this fact
  From the behavior and warning hygiene rules by us everyone he depends whether we will be healthy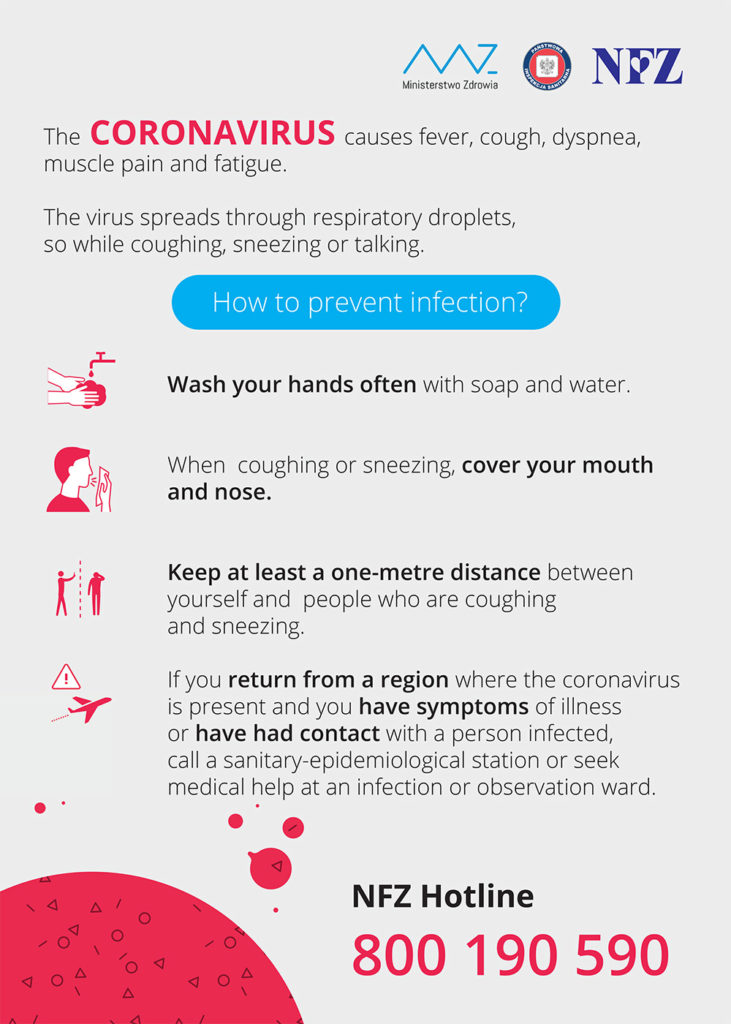 In response to the announcement of the epidemic state on the territory of the Republic of Poland, on 13 March 2020, the Minister of the Internal Affairs and Administration issued an Order on temporary suspension or restriction of border traffic at specific border...
CHANGES IN THE DEPARTMENT OF FOREIGNERS' AFFAIRS DUE TO CORONAVIRUS - communication of the Mazovian Voivodeship Office in Warsaw, Department of Foreigners Affairs, dated 15.03.2020. Out of concern for health and safety of clients and office staff, to limit the spread...
Nie znalazłeś odpowiedzi na swoje pytania?
Zapraszamy na kawę do naszego biura w centrum Warszawy, gdzie omówimy Twoje potrzeby. Nasi konsultanci są do Twojej dyspozycji od poniedziałku do piątku, w godz. 8.00-17.00.